A colour patch test is a small and subtle application of various tattoo inks, with the intention of seeing how each colour heals. The test provides information, like; which colours will appear most vibrant on that person's skin, which may need to be tempered with other colours to maximize their potential, and which may not be worth using at all.
It's no guarantee of final results, but simply a tool to help understand the skin. 
I currently offer free colour patch tests to Black folks, Indigenous folks, and People of Colour (BIPOC) in exchange for photos of their healing tattoo over time. My intention is to share these images in this blog as a public resource.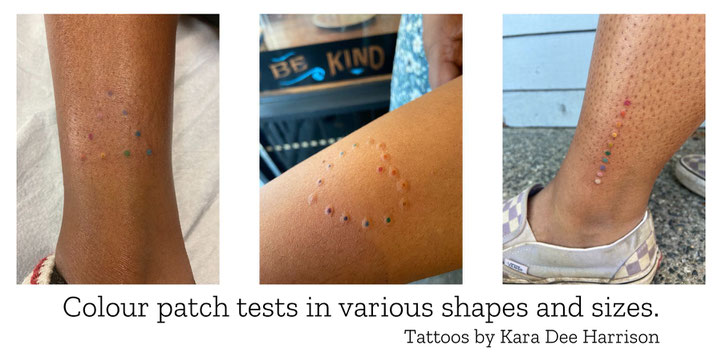 Who the heck am I?
My name is Kara and I'm a Canadian tattoo artist who specializes in colourful tattoos. I especially love to tattoo dinosaurs, pop culture characters, cute animals, and flowers. I am currently working on a project to catalogue and share how colourful tattoos heal on melanated skin. 
Why am I doing this?
Personally, I live in a city that is about 85% white folks. I noticed that very few BIPOC folks come into the shop (far less than the 15% that would have made statistical sense), and the ones that did often had the same story about their past experiences;
   'The artist said my skin was too dark for colour tattoos.' 

   'I heard that colour won't look good on my skin.' 

   'The artist didn't want to add any colour to the piece.' 
Whatever the reason, whether it be; honest inexperience, well intentioned ignorance, or straight up racism, a tattoo artist denying their client the services that they provide based on skin colour is horseshit. 
Colour tattoos are for you. Yes, YOU.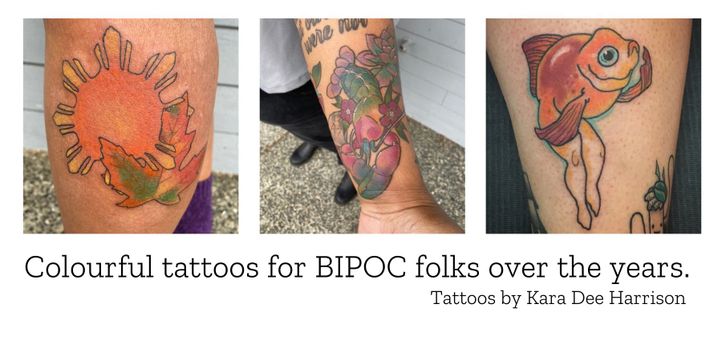 I wanted to create a safe environment where BIPOC folks could explore colourful tattoos, and where I could learn more about providing that service in a responsible way. I had heard of colour patch tests, but I couldn't find much information online about people actually doing them, and even less about the long-term results. So I decided to make the resources I wanted to see, and share them for other people like me to find.
Get Involved!
If you would like to be a part of the study, please apply here!   
And if you're an artist doing Colour Patch Tests too, I'd love to hear from you!
The 'Colour Patch Test' series will be a recurring event in this blog, and I'll add links to each post here as they are written:
---
Sharing is caring!
If you enjoyed this post, please help me get it out into the world by sharing it with someone who would enjoy this topic. Thanks in advance!