You've decided that you want to get a tattoo. Now what??
There are lots of things to know to make your tattoo experience the best it can be.  Here are some steps and tips to get you on your way!
Choose your artist:
Tattooing is a team sport, and you need a great partner to help create a great piece of art, as well as an enjoyable experience. Carefully review their portfolio or their IG page and choose someone whose art you genuinely like and whose personality and values align with yours.
Tip! See how they like to book appointments (Emails? Form to fill out? Interpretive dance?) and follow their guidelines. No unsolicited DMs if that's not their style!   
Consultation:
Consultations are a conversation between the potential client and artist to review the details of the tattoo. Consultations are generally free of charge. (I begin my consultation process by having you fill out an Appointment Request Form) Your artist may ask you to visit them in person to complete the consultation, or it may be possible to do everything via email.
Tip! If you do meet in person, be sure to wear clothing that makes it easy to show them the body part that will be tattooed.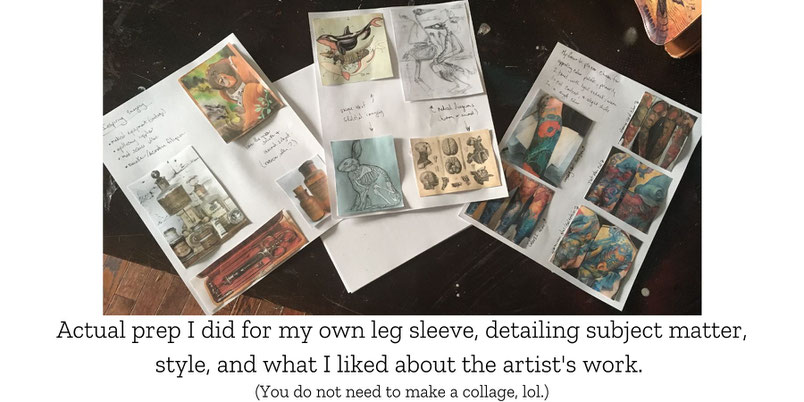 Quote:
Once the artist feels that they have all of the information needed to prepare your design, they'll provide a quote. The quote could be a set dollar amount for the project, or it could be an hourly fee with an estimate on how many hours it will take. (I do both, depending on the situation.)
Tip! If you have a budget in mind, be sure to tell your artist at the beginning. Trying to barter the quoted price is frowned upon – this is a personal quote for a professional service, not a flea market!
The commitment stage:
After the consultation, the next step is deciding if you want to move forward with your artist. If you are not 100% sure about your artist, if you don't like their ideas, if you're not sure about the quote, if anything feels off – stop here. It's much easier to say no thank you at this stage then after money is involved.
If you're feeling ready and you love your artist – then it's time to commit!
Deposits are non-refundable and lock you in. That means that once the deposit is paid you can't change artists or the details of your design. You are committing – with money – to everything discussed to this point.
Note - if you do change your mind later, that's totally okay, but your deposit will be paid to the artist to compensate them for their time.
The waiting part:
The wait time until your appointment can vary considerably depending on your artist's schedule, the length of your appointment, and your availability. Some artists may have appointments right away, within days or weeks. Some may be scheduling months in advance. Some could be booked for years!
Some artists may contact you while they are working on your design to ask questions or show you sketches, other artists may show you the design only when you arrive for your appointment. (I fall into the latter – the art is only revealed on tattoo day, with plenty of time to review and make reasonable changes, of course.)   
Prepare for your appointment:
Everyone is always worried about pain, but there are lots of things that you can do to help create a better tattoo experience for yourself.
Week before: Drink lots of water
Day before: No alcohol, get lots of sleep
Day of: Big breakfast including carbs and protein, lots of water
Bring to your appointment: Water, sugary drink, snack  
The happier your body is, the more fuel it has, the better your tattoo experience will go.
Good luck!
---
Spread the Word!
If you enjoyed this post, please help me get it out into the world by sharing it with someone who would enjoy this topic. Thanks in advance!