I really enjoy marking milestones. I did a giveaway for my 100th tattoo, I live streamed my 1000th tattoo (which I did on myself), and I always celebrate my tattoo anniversaries. 
This year, I thought back to how I felt doing my first tattoo. It was a penguin that I tattooed on my own leg, and the thing I remember most of being sooooo nervous about being tattooed by a newbie! 'She has no idea what she's doing!' I thought to myself... about myself.  
It all turned out just fine, but I thought, what's 5 times more special than 1 person who's never performed a tattoo tattooing you? Why it's 5 people who've never performed a tattoo tattooing you!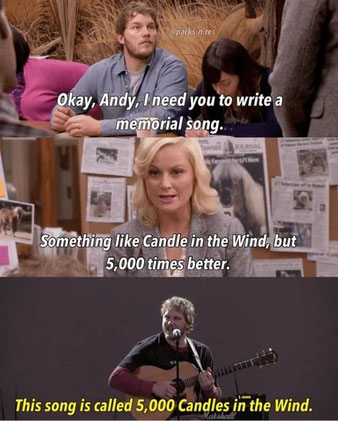 If it's good enough for Lil Sebastian, it's good enough for me. 
And so, I recruited 5 awesome people (all of whom I've tattooed), and invited them to tattoo me. Each selected a number from 1-5 and hand drew their pick. 
#1 Sarah - the first person I tattooed (that wasn't me). She threatened to fight Owen for the #1 spot, but he let her have it cause a good partner knows when not be get between a girl and her ride or die.   
#2 Tehani - who gets partial creative credit for this idea as we brainstormed it together while I was tattooing her. Tehani used to work with me at the tattoo shop, and has sewn many of my cute masks and several clothing pieces!
#3 Kara - it just wouldn't be a tattoo anniversary without Burnt Honey the local ice cream and macaron shop! I brought the idea to co-owners Kara and her wife Fee and asked them to decide who would do it. Like the fabulous partners they are, they collaborated, with Fee drawing the number and Kara tattooing it. 
#4 Kat - my BFF and awesome friend for almost 20 years. She chose #4 so that she could swap in the symbol for Sailor Jupiter, which looks like a fancy #4 already! 
#5 Owen - my favourite person ever; my fabulous husband! Owen is the 2nd not-me person I tattooed, and has been my partner in crime for many years. 
So how did it go?
This was an amazing experience, so full of joy, and the perfect way to mark my anniversary! I think that everyone discovered that tattooing is a little harder than it looks, lol! The shop was abuzz with excitement and nerves (which is actually pretty usual for a tattoo shop). I assured everyone that our goal was not to make perfect tattoos, but beautiful memories, and we absolutely did that. 
Here is everyone's 'I just did a tattoo' face:
I chose the spot beside my first tattoo (penguin) and my 1000th tattoo (dino with hat). I guess this is the 'special occasion' corner of my leg now! 
I love the final piece and I can't wait to proudly show it off for the rest of my life. Thanks to everyone for making my anniversary so memorable!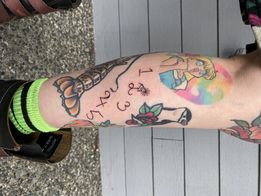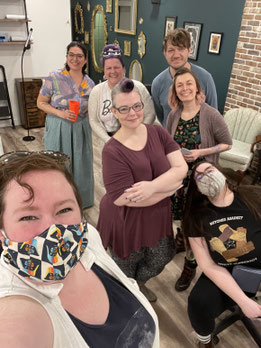 The only thing left to consider is what to do next year? 
---
Spread the Word!
If you enjoyed this post, please help me get it out into the world by sharing it with someone who would enjoy this topic. Thanks in advance!